High-interest rates are bad for mortgages but great for savings accounts.
High-yield savings accounts are a financial tool that allows individuals to earn a notably higher interest rate than traditional savings accounts. These accounts, typically provided by online banks or financial institutions, are designed to maximize the growth potential of deposited funds while maintaining a level of accessibility and security.
The primary allure of high-yield savings accounts lies in their competitive interest rates, which can outpace the rates offered by brick-and-mortar banks (and sometimes even the stock market). This interest accumulation can lead to more substantial returns over time, making these accounts particularly appealing to those seeking to enhance their wealth-building efforts.
For the record, a high-yield savings account is a great place to stash your emergency fund.
In essence, high-yield savings accounts capitalize on the benefits of compounding interest, enabling account holders to see their savings grow more rapidly than in standard savings accounts.
While the exact interest rates may vary based on prevailing market conditions, these accounts remain an attractive option for individuals within the 35-60 age bracket who are keen on bolstering their financial independence and securing a prosperous retirement.
As such, high-yield savings accounts represent a great choice for individuals looking to harness the power of compound growth within a secure and accessible financial framework.
7 Tips For Finding the Best High-Yield Savings Account
1. Hunt for the Best Interest Rates
Imagine your money doing a happy dance just by sitting in an account. That's what high-yield savings accounts offer – better interest rates! Look for accounts that promise higher numbers – the bigger, the better. Even a tiny percentage can make a huge difference over time.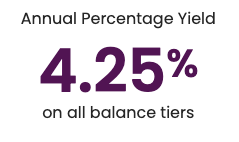 Savings account interest rates range from less than 1% to 5% or more depending on the economic climate. 2023 has seen skyrocketing interest rates for many savings accounts. At the time of this writing, Ally's savings bank offers an interest rate of more than 4%. That's pretty darn good!
2. No Sneaky Fees Allowed
Nobody likes surprise charges, right? Look for an account that says "no" to monthly maintenance fees and minimum balance requirements.
Begin by conducting comprehensive research into financial institutions renowned for their transparent fee structures. Online platforms and comparison tools can be instrumental in evaluating a spectrum of savings account options. Prioritize institutions renowned for their commitment to minimal fees and customer-centric practices.
Pay attention to account terms and conditions, particularly focusing on fine-print details related to maintenance fees, minimum balance requirements, and transaction charges.
Direct communication with bank representatives can also yield valuable insights into fee-related inquiries. Online reviews and customer testimonials can serve as empirical sources to gauge the veracity of fee claims made by financial institutions.
3. Online vs. Brick-and-Mortar
Hey, we're in the digital age, and your savings account can be too! Online banks often offer higher interest rates because they don't have fancy buildings to maintain. But if you're a fan of in-person chats, traditional banks might be your jam.
4. Look For FDIC Insurance
Safety first, always! Make sure the bank is FDIC insured. Being FDIC-insured signifies that a savings account is backed by the Federal Deposit Insurance Corporation (FDIC), a governmental agency established to safeguard the deposits of individuals held within banks and other financial institutions.
This insurance coverage provides a fundamental layer of protection to depositors, ensuring that their funds, up to the maximum limit of $250,000 per depositor per bank, are safeguarded in the event of a bank failure or unforeseen financial crisis.
The primary aim of FDIC insurance is to instill confidence in the banking system and promote financial stability by guaranteeing the security of individuals' savings, thereby encouraging continued participation in the economy without fear of losing one's hard-earned funds.
5. Access Your Money Without Hurdles
Life's full of surprises, right? Make sure your account lets you access your money when you need it. Some accounts might limit your transactions or slap you with fees for withdrawals. No one wants to play hide-and-seek with their hard-earned bucks!
6. Always Read The Reviews
Just like you read reviews before trying a new restaurant, check out what other people say about the bank. Online reviews can give you a sneak peek into their customer service and account experience. It's like having a crystal ball for your money.
7. Compare, Compare, Compare
You wouldn't buy the first car you see, right? The same goes for savings accounts. Take your time to compare different options. Use comparison websites or just old-fashioned spreadsheets. It's your money, so make sure you're getting the best deal.