Tired of waking up early and squeezing into crowded buses or cars just to get to your boring office? Well, it's time to bid farewell to those pesky commutes for good! In this article, we've got 10 super-duper, easy-peasy home office hacks that will help you turn your home into the coolest workspace ever.
If you're working from home, designing the perfect home office is critical to remote work. The right office will be comfortable, well-lit and quiet. It should ideally serve as a dedicated office whenever possible, not a spare closest you use as your office.
In this comprehensive guide, we'll explore the key elements and considerations that can help you create a productive, comfortable, and aesthetically pleasing workspace right in your own home.
Related article: 5 Career-Changing Dos and Don'ts to Smash Your Goals
1. Location Matters
Choosing the right location is the first step in designing the perfect home office. Your home office should ideally be located in a quiet, well-lit area that is separate from the distractions of daily life. Here are some key factors to consider:
Natural Light: Position your desk near a window to maximize natural light. This helps reduce the need for artificial lighting and creates a pleasant and energizing atmosphere.
Privacy: If possible, select a room with a door that can be closed and locked. This allows you to maintain a clear boundary between work and personal life, reducing distractions.
Minimal Noise: Choose a location away from high-traffic areas or noisy appliances. Consider adding soundproofing elements if noise is a persistent issue.
2. Ergonomics and Comfort
Creating a comfortable and ergonomic workspace is crucial for productivity and physical well-being. Consider the following aspects:
Chair and Desk: Invest in a good-quality ergonomic chair and an adjustable desk that allows you to switch between sitting and standing. Proper support for your back, neck, and wrists is essential to avoid discomfort and strain.
Monitor Placement: Position your computer monitor at eye level to reduce strain on your neck. Use an adjustable monitor stand if necessary.
Keyboard and Mouse: Choose an ergonomic keyboard and mouse that promotes a natural hand and wrist position. Keep them at a comfortable height and distance from your body.
Lighting: Ensure your workspace is well-lit to reduce eye strain. Use task lighting for your desk area and adjustable lighting options to control brightness.
3. Organization and Storage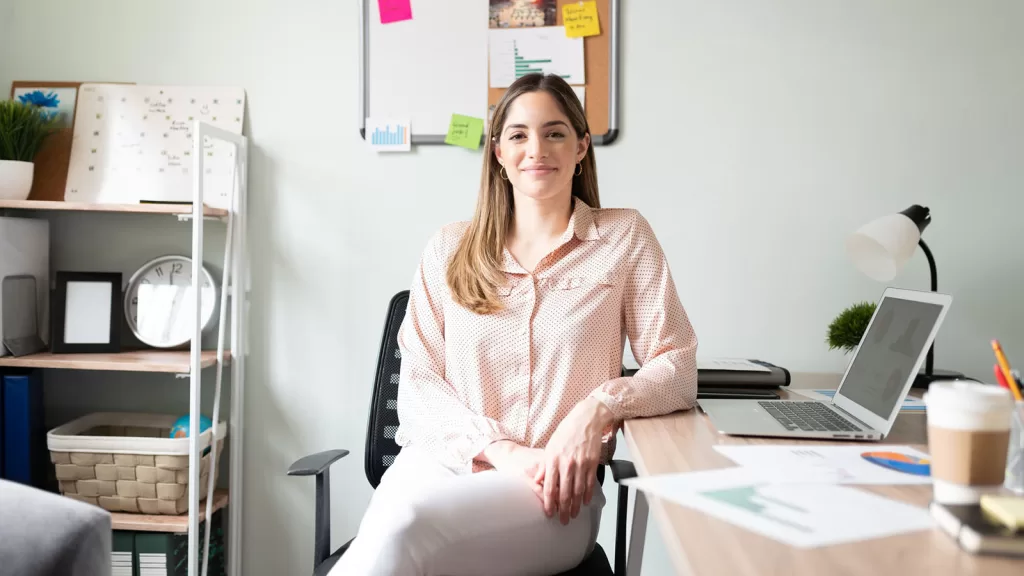 Efficient organization and ample storage are essential to maintain a clutter-free and productive home office:
Shelving and Cabinets: Install shelves or cabinets to keep office supplies, files, and equipment organized and within easy reach.
Filing System: Implement a filing system to organize important documents and paperwork. Consider digital storage solutions to reduce physical clutter.
Cable Management: Keep cables and wires organized and out of sight. Cable organizers and clips can help prevent tangles and tripping hazards.
4. Personalization and Aesthetics
Your home office should reflect your personality and style while still promoting focus and productivity:
Color Scheme: Choose a color scheme that resonates with you and promotes a positive atmosphere. Depending on your preferences, calming colors like blues and greens or energizing colors like yellows and oranges can be effective.
Art and Decor: Add art, decor, or inspirational quotes to personalize your workspace. These elements can serve as motivation and create an inviting atmosphere.
Plants: Incorporating indoor plants adds a touch of nature, improves air quality, and creates a visually appealing environment.
5. Technology and Connectivity
A fast and reliable internet connection is paramount for any home office. Ensure you have the necessary equipment and setup for seamless connectivity:
High-Speed Internet: Invest in a high-speed internet plan to ensure smooth video conferencing, file uploads, and online research.
Backup Power: Consider a backup power source like an uninterruptible power supply (UPS) to protect your work in case of power outages.
Quality Hardware: Use reliable computer hardware and peripherals to prevent technical glitches that can disrupt your workflow.
6. Distraction Management
One of the biggest challenges of working from home is managing distractions. Here's how to minimize them:
Set Boundaries: Communicate your working hours to family members or housemates to minimize interruptions. Then, enforce those hours!
Noise-Canceling Headphones: Invest in noise-canceling headphones to block out background noise and stay focused.
Time Management: Use productivity techniques like the Pomodoro method to structure your workday and maintain focus.
7. Personalization
Make your home office truly your own by incorporating elements that inspire and motivate you:
Vision Board: Create a vision board with your career goals, inspiring quotes, and images that reflect your aspirations.
Personal Mementos: Add personal touches like photographs, souvenirs, or artwork that hold sentimental value.
8. Green and Sustainable Elements
Consider incorporating eco-friendly and sustainable elements into your home office design:
Energy-Efficient Lighting: Use LED bulbs and energy-efficient fixtures to reduce electricity consumption.
Recycled Furniture: Opt for furniture made from recycled materials or repurpose old furniture to reduce waste.
Natural Materials: Choose furniture and decor made from sustainable materials like bamboo or reclaimed wood.
9. Tech Integration
Integrate technology seamlessly into your workspace:
Smart Home Office: Consider installing smart home technology for lighting, climate control, and security to enhance convenience and energy efficiency.
Multiple Monitors: If your work requires it, use multiple monitors to increase your screen real estate and improve productivity.
10. Maintenance and Upkeep
A well-designed home office also requires regular maintenance:
Cleaning: Keep your workspace clean and clutter-free. Regularly dust and wipe down surfaces.
Equipment Maintenance: Maintain your computer, printer, and other office equipment to prevent breakdowns and downtime.
Flexibility: Periodically review your home office setup and adjust as needed to accommodate changes in your work or technology.
Designing the perfect home office is a multi-faceted process that involves careful consideration of location, ergonomics, organization, personalization, technology, and sustainability. By handling each of these elements thoughtfully, you can create a workspace that enhances your productivity, promotes comfort, and reflects your unique style and values.
Your home office should be a place where you can thrive professionally while enjoying the benefits of working from the comfort of your own home.