By now, you probably know that fitness is a huge millionaire habit.
Author Tom Corley found that 76% of millionaires exercise for at least 30 minutes four days a week. Why? Because our money is no good to us if we're constantly battling our health.
Sad truth: Bad health destroys wealth.
So, here's the next question: If fitness is so important to millionaires, what type of fitness provides the most benefit?
If you're like most people, you've probably heard that cardio helps you lose weight and weight training helps you build muscle. If you want to get lean, do cardio. If you want to get big, lift heavy weights.
That's great in theory, but there's a little more to it than that.
Which is better, cardio or weight training?
Cardio vs. Weight Training
Simple answer: Both provide amazing benefits to your health. The best thing you can do is combine a cardio + weight training regimen into your daily fitness habits, but of course, that won't be possible or right for everyone.
Complete answer: It depends. And what you probably believe about cardio may not be the whole truth.
Cardio isn't necessarily the best type of exercise if you want to lose weight. As the ISSA points out, calories and weight loss are a little more complicated than that.
Fact: You will burn more calories during your cardio workout vs. weight training. This makes cardio more effective while you're actively working out if your goal is to burn calories and lose weight.
But the story continues. Weight training offers a hidden calorie-burning benefit that cardio can't.
When you weight train, you will:
Burn some calories during your workout, and
Continue burning calories for hours after your workout
You'll continue burning calories well after you stop working out when you weight train as your body recovers (making you stronger).
And here's the thing: Lifting weights boosts your metabolism, which means burning more calories throughout the day, every day.
And we're not done yet: Muscle tissue burns more calories when you're at rest. The more muscle you have, the more calories you will burn.
According to the ISSA weight training study (linked above):
The men in the study saw an increase in resting metabolism of nine percent; for women, the increase was modest but still at four percent.
The results represent about 140 extra calories burned per day for men and 50 for women.
This means when recovery and greater muscle mass are included in the equation, weight training burns more calories than cardio.
"Steve, are you telling us to ditch cardio and only do weight training?"
No.
I'm telling you to reject the assumption that cardio is for burning calories and lifting weights is for building muscle. That isn't the whole story.
Cardio is great for your heart. It helps strengthen your cardiovascular system, improves endurance, and gives you a chance to let your mind wander as you listen to your favorite tunes jogging or biking in the park.
There are plenty of benefits to cardio.
But if I had to pick one type of exercise to do for the rest of my life (cardio vs. weight training), it would be weight training.
I'd choose weight training for several reasons:
Using a lighter weight and higher reps improves cardio
Building muscle will help you burn more calories at rest
Improving your overall strength is never a bad thing to do
Regardless of what you choose, it's important to do something.
Get moving.
Your body is going to age whether you want it to or not.
Thinking about getting into shape? Here's your gameplan:
1: Find a workout buddy. You're much more likely to stick to your plan if you have a partner at the gym with you. I work out with my wife, which has been great for both of us. For you, it might be a friend. Anyone, really!
2: Hire a trainer to get you started. Hiring a local trainer is one option, but online trainers are just as beneficial. They will design your first workout routine, help you eat clean, and answer any questions you have.
I just started working with one of the biggest fitness names on Twitter, Johnny Brown, and it's been great. My lifts have improved drastically after just a week. In fact, I just had to order a set of heavier dumbbells because I'm already much stronger (no joke).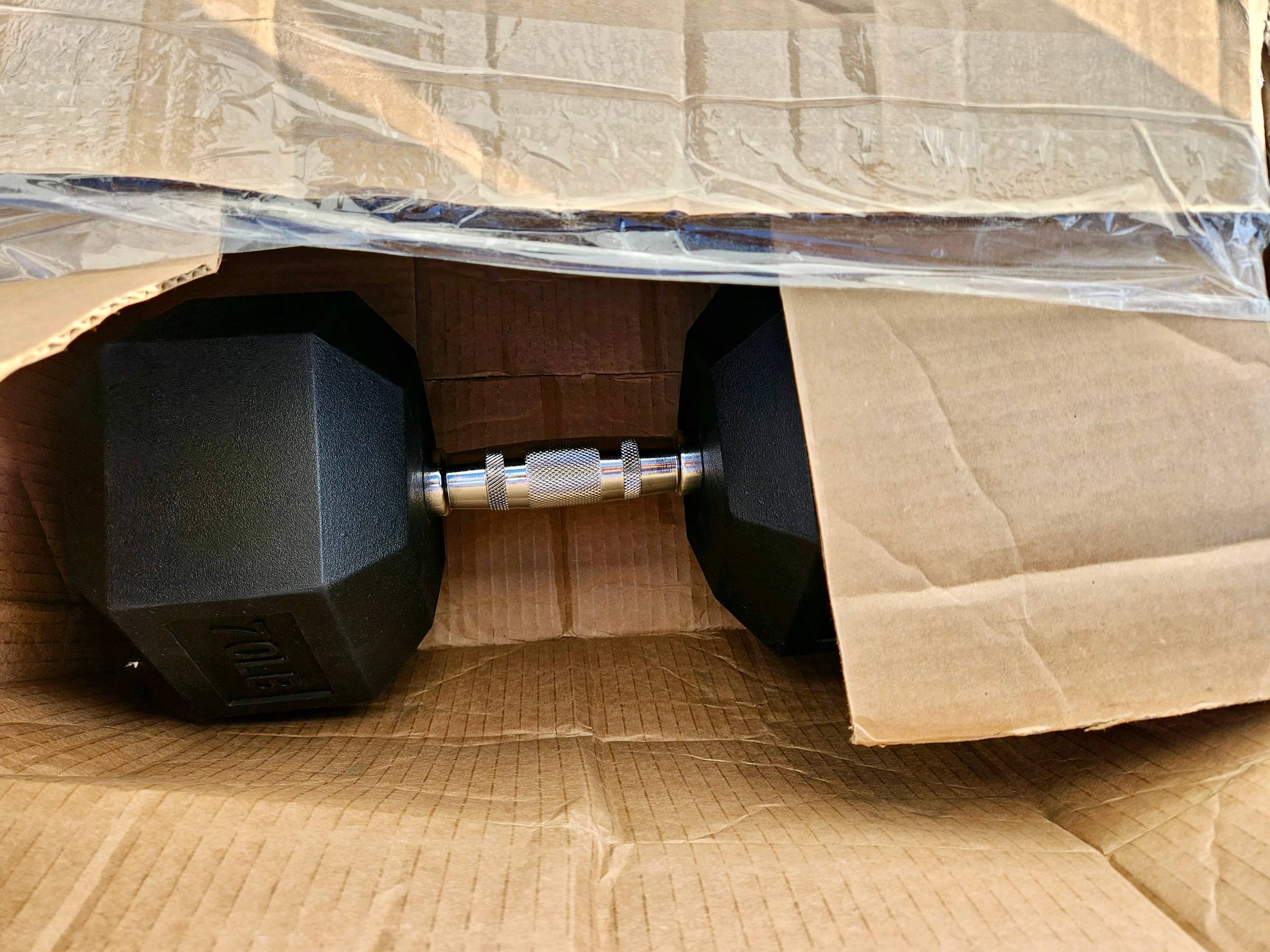 One of my brand new 70lb dumbbells (thanks, Johnny)
Want to get into the best shape of your life? Johnny has opened his doors to personal training, diet consultations, and support.
If you're serious about being the best-looking person at your holiday party (or being healthier than ever), click here to apply.
You won't regret it.
3: Commit for at least a year. Otherwise, you're not giving yourself enough time to see serious changes to your health and strength. Tell yourself that you're doing this. Tape a note to your refrigerator. Do whatever it takes to make fitness a part of your life.
Are you ready to do this?
Chat next week!
– Steve