Iceland is like no other country you've ever been to. Nestled at the very edge of the Arctic Circle, Iceland stands as a land of ethereal beauty and boundless excitement, a place where the elements themselves seem to dance in harmony. With its dramatic landscapes that range from cascading waterfalls and towering volcanoes to glaciers that glisten like diamonds under the midnight sun, Iceland is a natural wonderland that captivates the senses and stirs the soul.
Let's take a look at 15 stunning photos of Iceland's breathtaking landscape.
Kirkjufellsfoss
Kirkjufellsfoss is a breathtaking waterfall nestled in the picturesque landscape of Iceland near the iconic Kirkjufell mountain. It is a natural wonder that epitomizes this Nordic island nation's raw, untamed beauty. The waterfall's pristine waters cascade gracefully over a series of rocky tiers before plunging into a tranquil pool below.
Kerlingafjoll
Kerlingarfjöll, nestled in the heart of Iceland's rugged interior, is a mountain range that epitomizes the country's wild and untouched beauty. Located in the Highlands of Iceland, this volcanic massif is renowned for its dramatic landscapes, characterized by colorful rhyolite mountains, steaming geothermal vents, and pristine alpine valleys.
Skogafoss Waterfall
Skogafoss is one of Iceland's many natural waterfalls. Situated along the country's iconic South Coast, this majestic waterfall is a testament to the raw beauty of nature. With a drop of approximately 60 meters (197 feet) and a width that spans 25 meters (82 feet), Skogafoss is an awe-inspiring sight to behold. Yes, even in the winter.
Godafoss
Godafoss, often called the "Waterfall of the Gods," is an otherworldly waterfall in Iceland. Situated in the country's northeastern region, Godafoss has been pleasing photographers worldwide for its sheer beauty and historical significance. The waterfall's name alludes to a pivotal moment in Iceland's history when Thorgeir Ljosvetningagodi, a local chieftain and lawmaker, decided to convert to Christianity in 1000 AD.
Aurora Borealis Over Vestrahorn Mountains
The Aurora Borealis, often referred to as the Northern Lights, is a regular natural phenomenon that graces the high-latitude regions of the Earth's northern hemisphere with its breathtaking display of colorful lights. This celestial spectacle occurs when charged particles from the sun, primarily electrons and protons, interact with the Earth's magnetic field and collide with gas molecules in the upper atmosphere, releasing radiant green, pink, purple, and blue hues.
Seljalandsfoss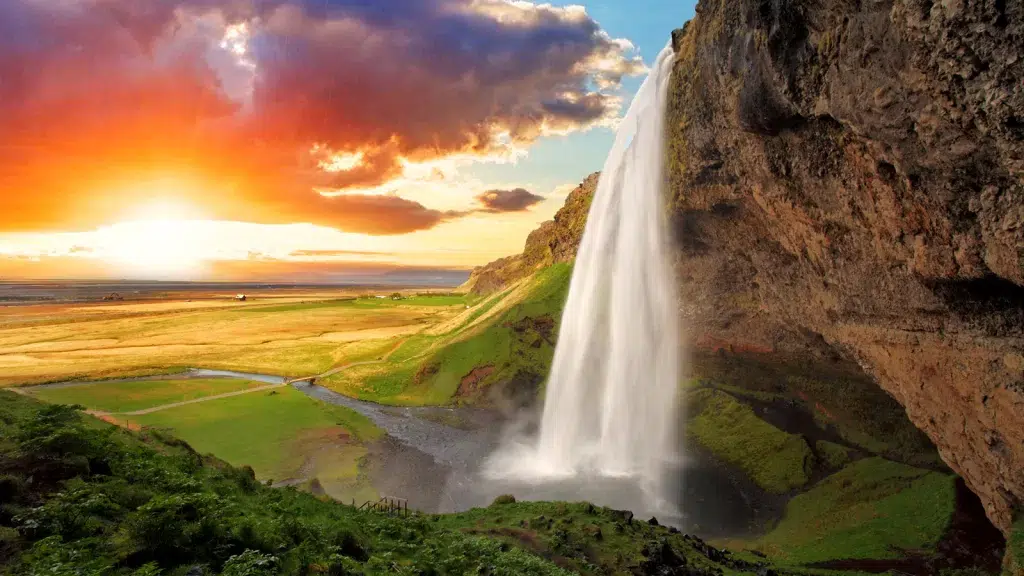 Seljalandsfoss is a waterfall located in the southern region of Iceland known for its breathtaking beauty and unique accessibility. What sets Seljalandsfoss apart from other waterfalls is the ability for visitors to walk behind the cascading curtain of water, creating a truly immersive and awe-inspiring experience.
Reykjavik (Capital City)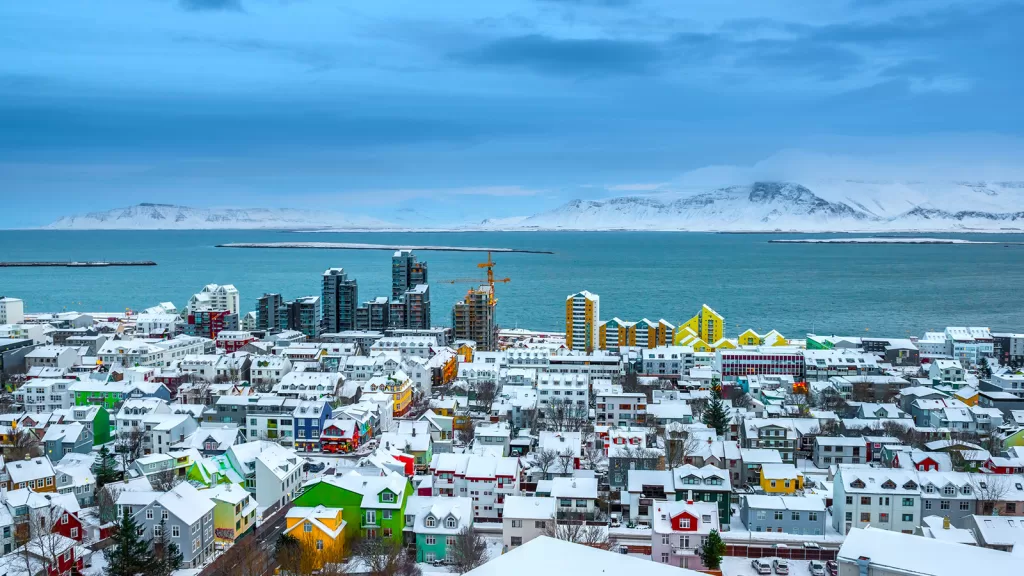 Reykjavik, Iceland's vibrant capital, is a city that seamlessly blends natural beauty with modern urban living. Nestled on the island's southwestern coast, Reykjavik is known for its stunning landscapes, including geothermal hot springs, rugged coastlines, and the iconic Mount Esja looming in the distance. Reykjavik's rich history is showcased in its museums and landmarks, such as the impressive Hallgrímskirkja church and the National Museum of Iceland.

Northern Lights Over Mount Kirkjufell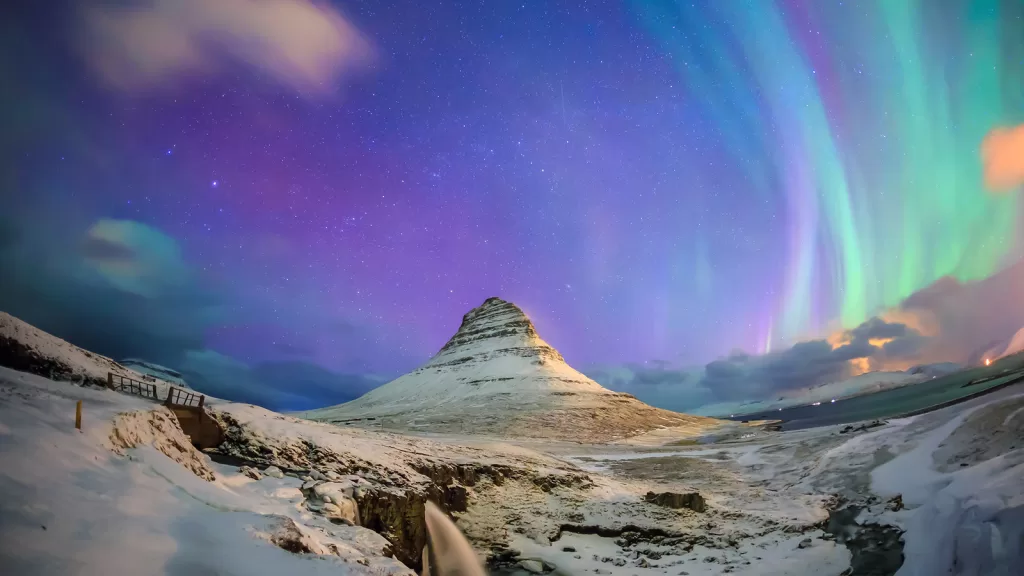 Mount Kirkjufell, often called the "Church Mountain" due to its symmetrical shape, is an iconic and instantly recognizable natural wonder in Iceland's breathtaking landscape. Rising proudly on the Snæfellsnes Peninsula's western edge, Kirkjufell's distinctive cone-shaped peak is a testament to the Earth's geological marvels.
Icebergs on Jokulsarlon Black Sand Beach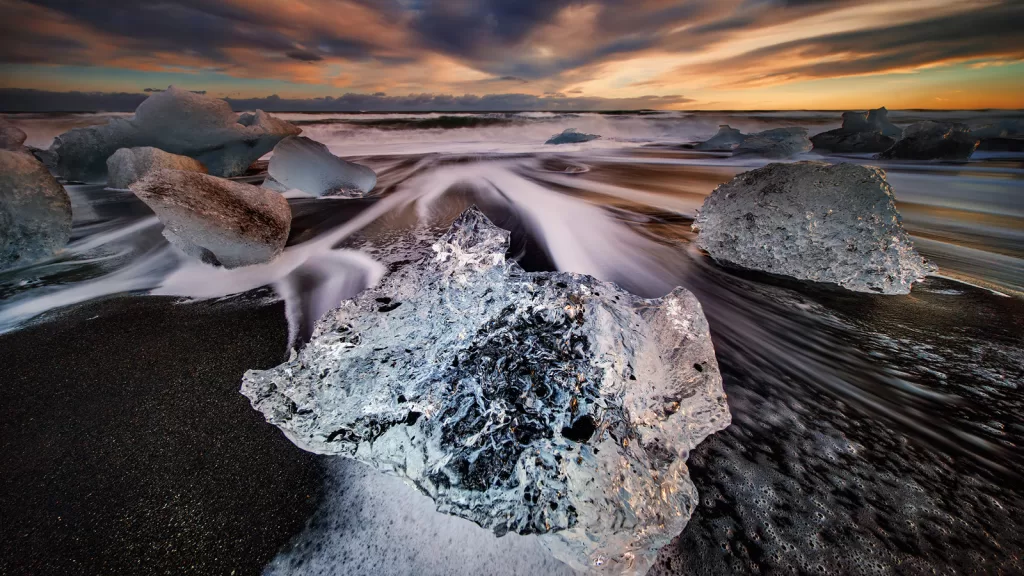 Black beach icebergs in Iceland are a captivating and surreal natural wonder. These unique ice formations, commonly found along the southern coast of Iceland, result from the convergence of glaciers and the sea. Massive chunks of ice break off from glaciers, floating into the ocean, where the frigid waters and harsh Arctic winds sculpt them.
Over time, these icebergs are washed ashore onto black volcanic sand beaches, creating a stunning contrast between the glistening, crystal-clear ice, and the dark, volcanic backdrop.
Hveravellir Highlands
Hveravellir, located in the heart of Iceland's rugged highlands, is a geothermal oasis that captivates visitors with its surreal beauty and natural wonders. Nestled between two glaciers, Langjökull and Hofsjökull, Hveravellir is a geothermal hotspot where steaming hot springs and bubbling mud pots punctuate the stark, volcanic landscape.
The site also features a unique natural bathing pool (pictured), where travelers can soak in the soothing, warm waters while surrounded by the raw, untamed wilderness of Iceland's interior.
Lupins Meadow
Lupins Meadow, nestled amidst the breathtaking landscapes of Iceland, is a picturesque natural wonder that captivates the hearts of all who venture to its verdant embrace. This enchanting meadow is named after the vibrant lupin flowers that carpet its undulating terrain in a riot of colors, painting the countryside with hues of purples, pinks, and blues during the summer months.
Iceland in The Summer
Visiting Iceland in the summer is a truly enchanting experience. The Icelandic summer offers a unique opportunity to explore its diverse terrain, from the dramatic volcanic landscapes to serene fjords, while indulging in outdoor adventures like hiking, horseback riding, and soaking in geothermal hot springs.
Lava Near Mount Fagradalsfjall Geldingadalir Valley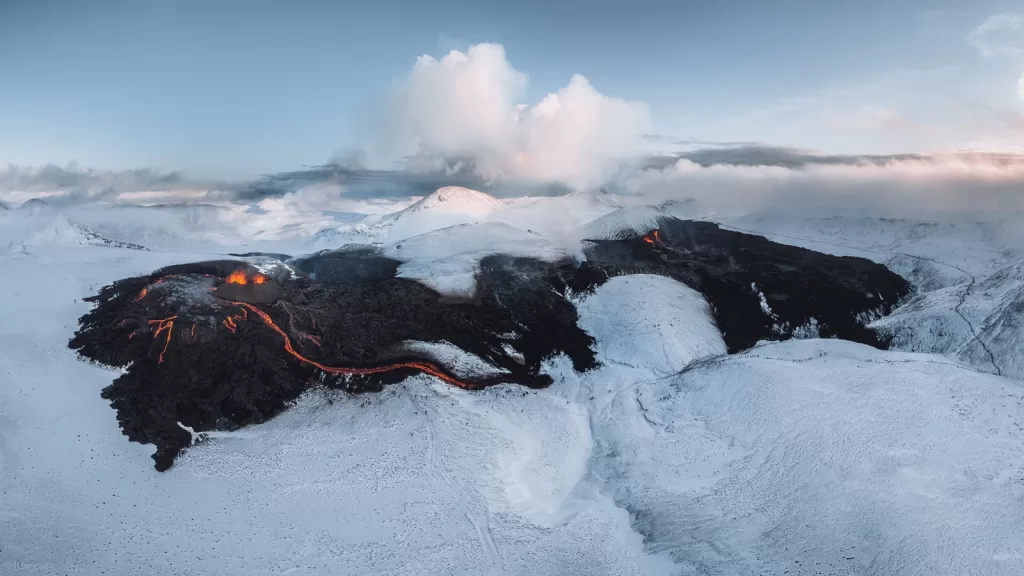 Fagradalsfjall Geldingadalir Valley, located on the Reykjanes Peninsula in Iceland, is a geological wonder that has captivated the world's attention. This stunning valley is nestled within the larger Fagradalsfjall volcano system and gained notoriety in early 2021 when it erupted after a long period of dormancy, marking the first eruption in the area in over 800 years.
Blue Lagoon Hot Springs Spa
This is unlike any spa you've ever been to. The Blue Lagoon Hot Springs Spa in Iceland is an oasis nestled amidst the otherworldly landscapes of this Nordic island nation. Known for its stunning azure waters, the Blue Lagoon is a geothermal wonder that attracts travelers from across the globe. The warm, milky-blue mineral-rich waters are a product of the nearby Svartsengi geothermal power plant and are believed to have therapeutic properties, making it a popular destination for relaxation and rejuvenation.
Sunset in Stokksness, Iceland
Stokksness is located on Iceland's southeastern coast and is renowned for its breathtaking and otherworldly landscapes. This coastal area is characterized by its towering black sand dunes, dramatic rocky peaks, and a serene lagoon that beautifully reflects the surrounding mountains and glaciers. Stokksness is a photographer's paradise, offering countless opportunities to capture the stark contrast between the ebony sands and the ethereal, snow-capped peaks of Vestrahorn Mountain.