Access to a gym is great, but it's not required to get into the best shape of your life.
Bodyweight exercises are the essence of simplicity, requiring no special equipment or fancy gear. And if you do them correctly (and consistently), they will make you healthier, stronger, and more confident.
In this article, we'll explore eight bodyweight exercises you can do with no equipment, making fitness accessible to everyone, anywhere.
Push-Ups: Building Upper Body Strength
Push-ups are one of the most classic and effective bodyweight exercises. They primarily target your chest, shoulders, and triceps while engaging your core for stability.
To perform a proper push-up:
Start in a plank position with your hands slightly wider than shoulder-width apart. Remember, your back should be straight as a board throughout the exercise.
Lower your body by bending your elbows, keeping them close to your sides.
Push back up to the starting position while maintaining a straight line from head to heels.
Repeat for your desired number of repetitions.
Push-ups can be modified to suit your fitness level. If you're a beginner, you can perform them with your knees on the ground or against a wall for added support. As you progress, aim for more reps and perfect your form. You can also lift your feet onto a bench or chair to make each pushup harder (and to target the lower part of your chest).
Bodyweight Squats: Building Lower Body Strength
Squats are fantastic for building lower body strength, targeting your quadriceps, hamstrings, glutes, and calves. They also engage your core and lower back for balance.
To perform a squat:
Stand with your feet hip-width apart.
Lower your body by bending your knees and pushing your hips back as if sitting in a chair.
Keep your chest up and your back straight.
Go as low as possible while maintaining good form, ideally until your thighs are parallel to the ground.
Push through your heels to stand back up.
Variations of squats, such as pistol squats or jump squats, can make the exercise more challenging as you progress in your fitness journey. To make the exercise even harder, hold a heavy object in your hands in front of you as you perform the exercise.
Planks: Strengthening the Core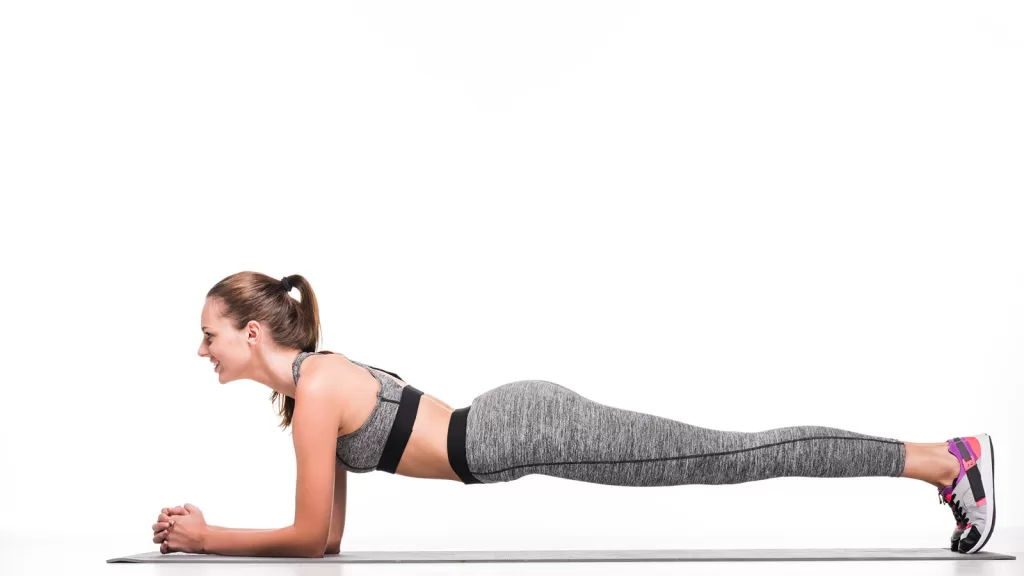 The plank is a bodyweight exercise that focuses on strengthening your core muscles, and it's brutal if you've never done it. It also engages your shoulders, back, and legs for stability.
To perform a plank:
Start in a push-up position but with your weight on your forearms, not your hands.
Keep your body straight from head to heels, engaging your core.
Hold this position for as long as you can while maintaining proper form.
Planks can be tailored to your fitness level by adjusting the duration of the hold. You can experiment with side planks and other variations to intensify the exercise as you advance.
Lunges: Developing Leg Muscles
Lunges are another excellent lower body exercise that targets your quadriceps, hamstrings, glutes, and calves. They also enhance balance and flexibility.
To perform a lunge:
Stand with your feet together.
Step one foot forward and lower your body until both knees are bent at 90-degree angles.
Keep your chest up, back straight, and front knee directly above your ankle.
Push through your front heel to return to the starting position.
Repeat with the other leg.
Depending on your space and preferences, lunges can be performed as stationary lunges or walking lunges. Hold weights to make the exercise more difficult.
Burpees: Full-Body Conditioning
Burpees are a high-intensity, full-body exercise that combines squat, push-up, and jump elements. They work your chest, shoulders, triceps, core, quads, and hamstrings and even provide a cardiovascular challenge.
To perform a burpee:
Start in a standing position.
Drop into a squat position and place your hands on the ground.
Kick your feet back into a plank position and perform a push-up.
Jump your feet back to the squat position.
Explode upward from the squat position, jumping as high as you can.
Land back in the squat position and repeat.
Burpees are demanding, so beginners may want to start with a modified version, eliminating the push-up and jump until they build more strength and endurance.
Mountain Climbers: Cardio and Core Work
Mountain climbers are a dynamic exercise that combines cardiovascular conditioning with core strengthening. They also work your shoulders and legs.
To perform mountain climbers:
Start in a plank position with your hands directly under your shoulders.
Bring one knee toward your chest, then switch and bring the other knee toward your chest.
Continue alternating your knees as if you were running in place.
Mountain climbers can be done at a controlled pace for core engagement or at a faster tempo for a more intense cardiovascular workout. Try to keep your back straight during the exercise.
Bicycle Crunches: Core and Oblique Strength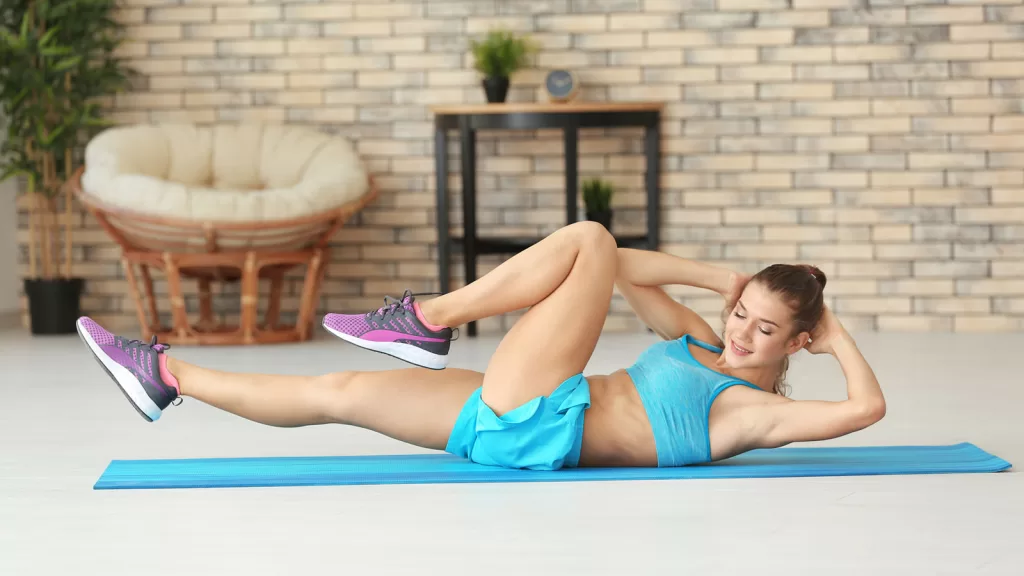 Bicycle crunches are an effective way to target your core and oblique muscles. They also improve flexibility and coordination. To perform bicycle crunches:
Lie on your back with your hands behind your head and your knees bent.
Lift your head, shoulders, and upper back off the ground.
Bring your right elbow toward your left knee while straightening your right leg.
Alternate by bringing your left elbow toward your right knee while straightening your left leg.
Continue this pedaling motion, engaging your core throughout.
Keep a slow and controlled pace to ensure proper form and maximize the effectiveness of this exercise. There is no need to perform this exercise quickly.
Superman: Strengthening the Back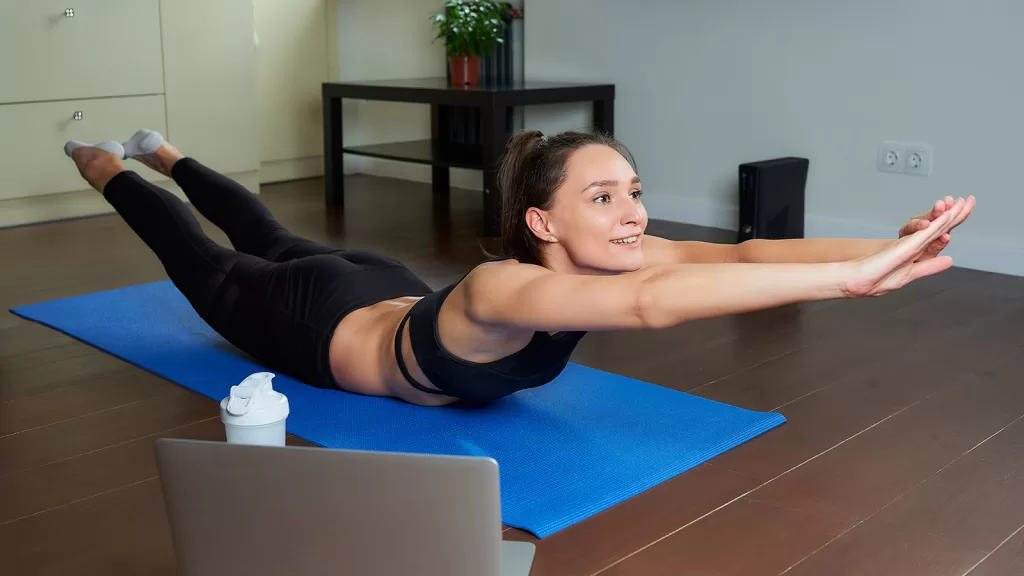 The Superman exercise is designed to strengthen the muscles of your lower back and improve posture. It might be a little awkward initially, but give these a try.
To perform a Superman:
Lie face down on the ground with your arms extended in front of you and your legs straight.
Lift your arms, chest, and legs off the ground simultaneously, engaging your lower back muscles.
Hold this position for a few seconds, then lower back down.
The Superman exercise is particularly beneficial for people who spend long hours sitting or hunched over a computer, as it helps counteract the effects of poor posture.
Let's Build A Program
Now that you have eight bodyweight exercises in your fitness arsenal, you can create a comprehensive workout routine that targets all major muscle groups.
Here's a sample bodyweight workout plan to get you started:
Warm-up: 5-10 minutes of light cardio (jumping jacks, jogging in place, or high knees).
Push-Ups: 3 sets of 10-15 repetitions.
Squats: 3 sets of 12-20 repetitions.
Planks: Hold for 30-60 seconds, repeat 2-3 times.
Lunges: 3 sets of 12-16 repetitions per leg.
Burpees: 3 sets of 8-12 repetitions.
Mountain Climbers: 2 sets of 20-30 seconds.
Bicycle Crunches: 3 sets of 12-16 repetitions per side.
Superman: 3 sets of 10-15 repetitions.
Remember to cool down and stretch after your workout to improve flexibility and reduce muscle soreness. As you progress, you can increase the number of sets, repetitions, or the intensity of each exercise to continue challenging yourself.