Are you over 60 and want to stay active and feel young at heart? You're in the right place! In this article, we'll share some easy and practical tips to help you stay fit and healthy even as you age. Getting older doesn't mean you have to slow down – with the right approach, you can stay 60 and feel 30!
We'll discuss simple exercises, diet, and lifestyle changes that can greatly affect how you look and feel. Whether you want to keep up with your grandchildren, enjoy hobbies you love, or simply have the energy to live life to the fullest, this guide is here to help you stay active and fit in your 60s and beyond.
Let's embark on this exciting adventure together!
What Happens As We Age?
Before we dive into the benefits of exercise for seniors, let's first understand what happens to our bodies as we age. Aging is a complex process that affects every system in our body.
Here are some common changes that occur:
Our Muscles Get Smaller: As we age, we lose muscle mass, a condition known as sarcopenia. This can lead to reduced strength and mobility.
Our Bone Density Decreases: Bones become less dense, making them more susceptible to fractures and osteoporosis.
Our Metabolisms Slow: Our metabolism slows down, making it easier to gain weight and harder to lose it. My metabolism started slowly down drastically in my late 30s.
Our Joints Stiffen: Joints may become stiffer, less flexible, and prone to arthritis.
Our Cardiovascular Health Changes: The cardiovascular system undergoes changes that can increase the risk of heart disease.
Our Balance and Coordination Decreases: Balance and coordination can deteriorate, increasing the risk of falls and injuries.
While these changes are a natural part of aging, they can be mitigated and even reversed to some extent through smart and controlled exercises that are right for seniors.
The Benefits of Exercise for Seniors
Exercise has long been recognized as a powerful tool for maintaining health and well-being at any age, but its importance becomes even more apparent as we age. Here are some of the key benefits of staying active and fit over 60 through regular exercise:
1. Improved Muscle Mass and Strength
Engaging in resistance training exercises, such as lifting weights or using resistance bands, can help counteract muscle loss and increase muscle mass. Stronger muscles support better posture, balance, and overall mobility, making daily activities easier and reducing the risk of falls.
2. Enhanced Bone Health
Weight-bearing exercises like walking, jogging, dancing, and weightlifting stimulate bone growth and improve bone density. This is crucial for preventing osteoporosis and reducing the risk of fractures.
3. Weight Management
Exercise helps boost metabolism, making it easier to manage weight and prevent obesity. Maintaining a healthy weight is essential for overall health and reducing the risk of chronic diseases like diabetes and heart disease.
4. Cardiovascular Health
Regular cardiovascular exercises, such as walking, cycling, or swimming, strengthen the heart and improve circulation. This reduces the risk of heart disease, lowers blood pressure, and helps maintain healthy cholesterol levels.
5. Enhanced Balance and Coordination
Many exercise routines, including yoga and tai chi, focus on balance and coordination. These practices can help seniors improve their stability and reduce the risk of falls, which can seriously affect older adults.
6. Mood and Mental Health
Exercise has a profound impact on mental health. It releases endorphins, boosting mood and reducing the risk of depression and anxiety. Staying active also promotes cognitive function, potentially reducing the risk of age-related cognitive decline and dementia.
7. Social Engagement
Participating in group exercise classes or sports can provide social interaction, reducing feelings of isolation and loneliness, which can be common among older adults.
Tips for Getting Started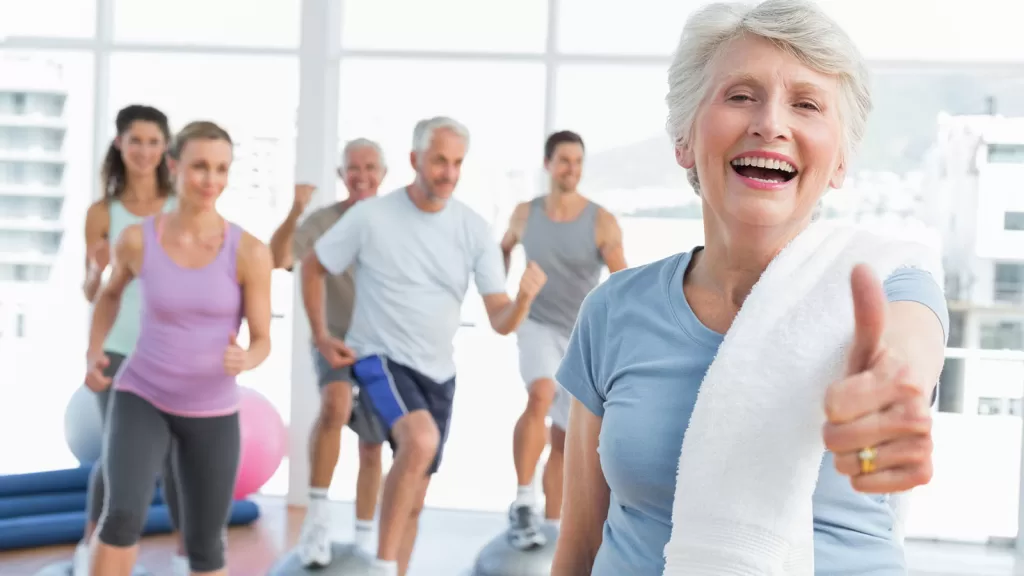 If you're over 60 and new to exercise or haven't been active in a while, it's essential to start slowly and gradually increase your activity level. Here are some tips to help you get started and stay motivated:
1. Consult Your Healthcare Provider
Before beginning any exercise program, consult with your healthcare provider, especially if you have any preexisting medical conditions or concerns about your health. They can guide and ensure your chosen exercise regimen is safe.
2. Choose Activities You Enjoy
Select exercises you genuinely enjoy to make it easier to stick with your routine. Whether dancing, swimming, gardening, or playing golf, finding activities that bring you joy will increase your motivation to stay active.
3. Start Slowly
Start slowly if you're new to exercise or haven't been active in a while. Enlist the help of a certified personal trainer to help you. Begin with shorter sessions and lower-intensity exercises, gradually increasing the duration and intensity as your fitness level improves.
4. Incorporate Variety
A well-rounded exercise routine includes a mix of cardiovascular, strength, flexibility, and balance exercises. This variety keeps things interesting and ensures that you address different aspects of your physical fitness.
5. Listen to Your Body
Pay attention to how your body feels during and after exercise. If you experience pain or discomfort, it's essential to rest and, if necessary, modify your exercise routine. Pushing through pain can lead to injuries.
6. Stay Hydrated
Proper hydration is crucial, especially for older adults. Drink plenty of water before, during, and after exercise to stay hydrated.
7. Warm Up and Cool Down
Always begin your exercise session with a warm-up to prepare your muscles and joints and finish with a cool-down to help your body recover. Stretching is essential for maintaining flexibility and preventing injury.
8. Set Realistic Goals
Set achievable goals for yourself, whether increasing your daily step count, lifting a certain weight, or mastering a new yoga pose. Tracking your progress can motivate and help you stay committed to your fitness journey.
Making Exercise a Lifelong Habit
The key to staying active and fit over 60 is consistency. Exercise should not be a short-term endeavor but rather a lifelong habit. Here are some strategies to help you make exercise a permanent part of your routine:
1. Schedule Regular Exercise Times
Block out specific times in your daily or weekly schedule for exercise. Treat these appointments with the same importance as any other commitment.
2. Find an Exercise Buddy
Exercising with a friend or family member can make it more enjoyable and provide extra motivation. Having a workout partner can also help you stay accountable.
3. Use Fitness Groups
Many community centers offer senior-specific exercise classes and groups. Joining one of these can provide structure and social interaction while keeping you on track with your fitness goals.
4. Mix It Up
Keep your exercise routine interesting by trying new activities or classes. This prevents boredom and ensures you continue challenging yourself physically and mentally.
5. Celebrate Your Achievements
Acknowledge and celebrate your fitness achievements, no matter how small they may seem. Recognizing your progress can boost your confidence and motivation.
6. Listen to Your Body
As you age, your body's needs and abilities may change. Be willing to adapt your exercise routine to accommodate these changes. It's essential to be flexible and prioritize safety.
7. Stay Informed
Stay up-to-date with the latest information on exercise for older adults. New research and techniques are continually emerging, so being informed and open to trying new approaches is essential.
The Bottom Line
Aging doesn't have to mean declining physical fitness and overall well-being.
By staying active and fit over 60 through regular exercise, you can drastically slow aging and enjoy a higher quality of life. Exercise offers many benefits, from improved muscle strength and bone density to enhanced cardiovascular health and mood.
Remember that it's never too late to start, and with the right guidance and motivation, you can make exercise a lifelong habit that contributes to a healthier, happier, and more vibrant you in your golden years. So, lace up those sneakers, grab your yoga mat, or head to the local gym—your body and mind will thank you for it!