Welcome to Q & A Wednesday on Millionaire Habits, where I answer one of your weekly questions for everyone's benefit. Have a question?
💡 Question: "I'm 48 and thinking about retirement. I've never invested before. Where should I start?"
It's great that you're thinking about retirement. Unfortunately, you left a lot of money on the table by not investing earlier in life, but investing late is far better than not investing. So, congrats for that!
If you haven't started investing or aren't sure if you're doing it right, this email is for you.
Here's how to make investing easy and uncomplicated.
How Should I Start Investing?
Investing is how millionaires get rich, and the market offers a long history of making people very wealthy.
For instance, here's the 5-year graph of the S&P500. Nearly 50% growth in 5 years? Yeah, I'll take that all day long.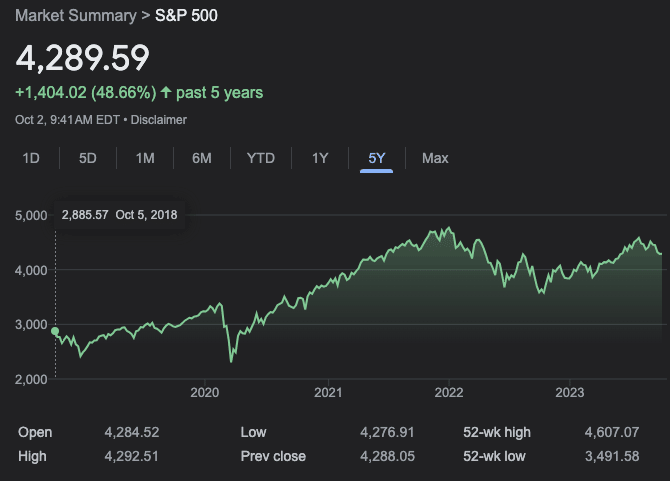 Source: Google
When we talk about investing, it's important to distinguish between the two primary types of investing:
Retirement accounts, and
Basically everything else
Let's talk retirement first.
In the United States, retirement accounts like the 401(k) and Roth IRA are designed for long-term growth and incur penalties if you withdraw your money before your 60s.
While there are loopholes to allow access to your money early, don't count on using them. The point is to keep invested and let it grow.
Retirement accounts are usually your easiest option to start investing because many employers offer them to their staff. Instantly start investing a portion of your paycheck using automated payroll deductions.
Easy peasy.
How much? 10% of your paycheck is the bare minimum. If you can get to 20%, do it. Talk to your HR or accounting department if you're unsure what your employer offers.
Not in the U.S.? Many countries offer similar long-term retirement options. For instance, Canada's Registered Retirement Savings Plans are essentially the equivalent of the 401(k).
Once your retirement accounts are funded, here's where it gets interesting.
A ton of options exist for further investments.
Most of us know about the stock market. Instead of rehashing everything in this email, start with my beginner's guide to index funds, then dive deeper into other investments like ETFs (recommended!) and REITs, a great way to invest in real estate without being a landlord.
Open a brokerage account at Vanguard, talk to an advisor, and start buying assets. Pay attention to investment fees as they add up quickly. Stocks, index funds, and ETFs usually have low fees. Mutual funds have the most fees. I stay away from these funds because of their costs.
Use automation to make contributions easy. Set up a bank transfer from your checking account to your investment account every month.
Boom, done.
I've also written about how to set up financial automation. 🙂
Note that there is always a risk with investing. In other words, sometimes the market goes down. But over the long haul, the market has shown it prefers to go up.
Don't want to spend all your waking moments researching companies and buying and selling stocks?
Don't worry.
Passive investors tend to beat active investors. This means don't day trade. Don't buy and sell every day. Buy index funds and ETFs and let them do what they do best: Grow.
Really, that's it. Investing isn't nearly as complicated as many like to believe. When you buy index funds and ETFs, your money is automatically diversified. You don't have to review earnings reports and other boring financial documents. Just invest. That's it.
Start there. Get your retirement accounts fully funded, then open a brokerage account for further investment options.
You'll be building wealth in no time.
See you in your inbox on Saturday,
– Steve